Facilitez vos rédactions grâce à un suivi clair et précis
des références que vous mentionnez dans votre texte
Make drafting easier thanks to a clear and precise follow-up
of the references that you mention in your text
PatRefPlus
extrait la nomenclature d'un document de brevet en cours d'édition dans Microsoft Word, et liste les composants (références + noms) de cette nomenclature dans une fenêtre séparée.
Chaque composant de la liste affichée est un lien cliquable pointant vers ses occurrences successives dans le document Word.
PatRefPlus
extracts the nomenclature (list of parts) of a patent document edited with Microsoft Word and lists the elements (references + names) of this nomenclature in a separate window.
Each element in this list can be clicked to highlight ists successive occurrences in the Word document.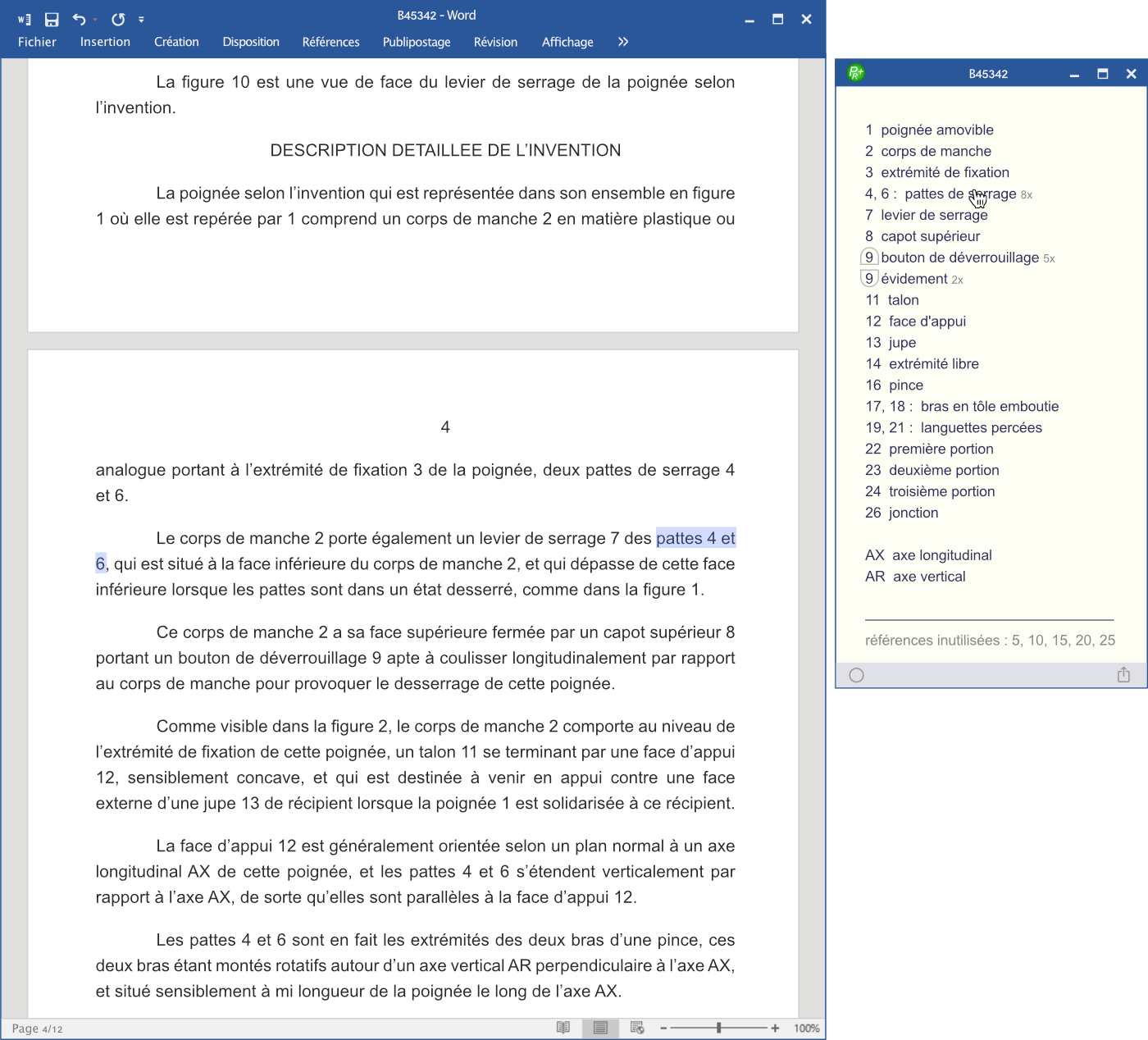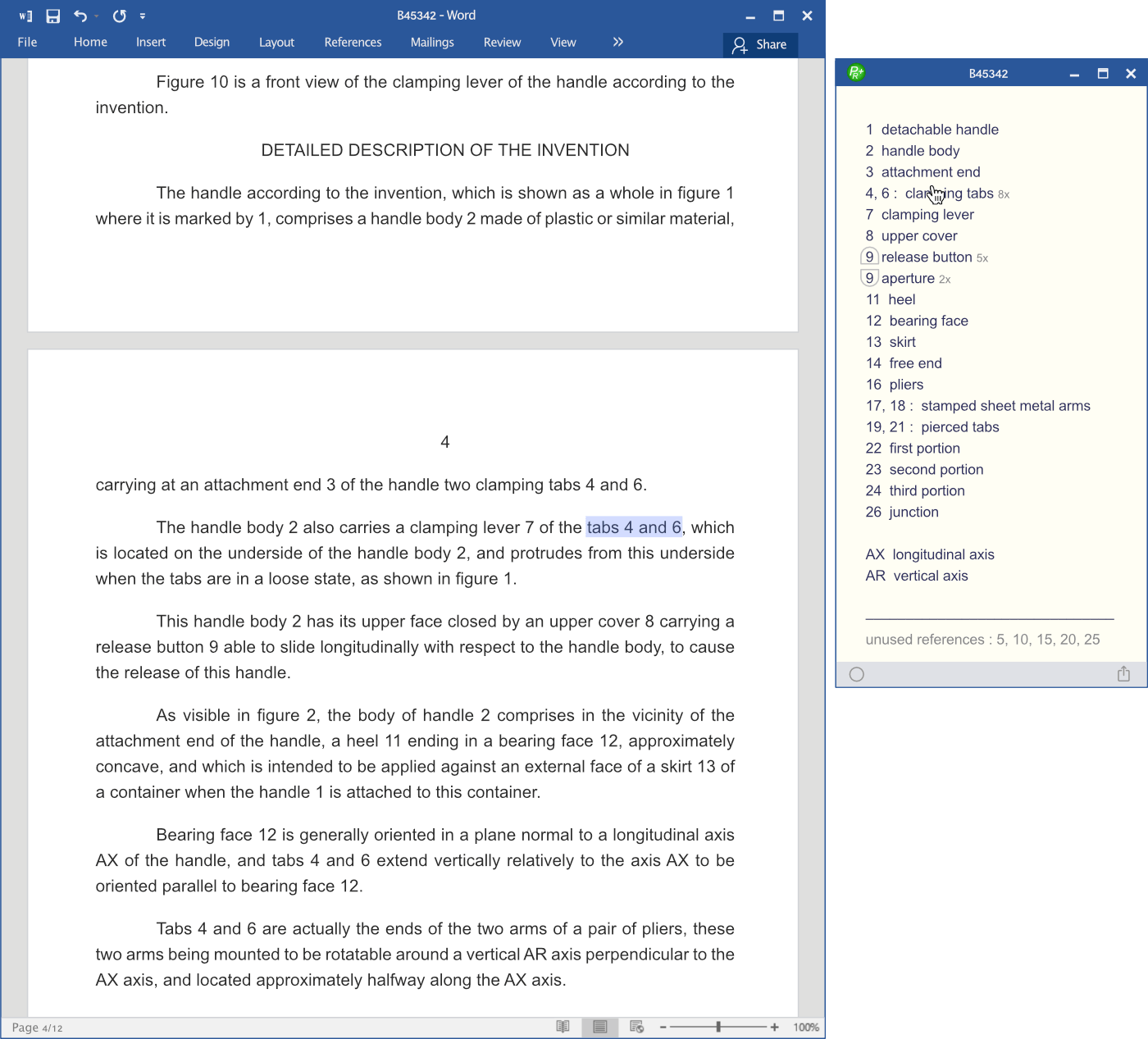 Intérêt :
cette application simplifie la relecture et l'élaboration d'un document de brevet, en détectant les erreurs de références pouvant être présentes dans le texte, et en permettant de les corriger de façon rapide et simple.
Avantages :
visualiser la nomenclature permet aussi de se replonger beaucoup plus rapidement dans un texte en cours de rédaction, et également d'ajouter les références sur les figures sans avoir à parcourir le texte.
Benefit:
this application simplifies proof reading and drafting of a patent document by detecting the reference errors that may be present in the text and by letting you correct them quickly and simply.
Advantages:
viewing the list of parts also lets you dive back into a text being written much more quickly, and lets you add references to the drawings without having to go through the text.
Cela permet de rester réellement concentré sur les questions de fond du texte en cours de rédaction.
This allows you to stay fully focused on the substantive issues of the text being written.
Simplicité :
la prise en main de cette application est quasiment instantannée, et les habitudes de rédaction ne sont pas modifiées du fait qu'elle fonctionne conjointement avec Word.
Concision :
les valeurs numériques, les unités ou autres sont écartées, et des dénominations différentes mais analogues sont réunies dans un même composant (ex :
face d'appui 12
et
face 12
).
Simplicity:
getting started with this application is achieved almost instantly, and the writing habits are not changed since it runs along with Word.
Conciseness:
numerical values, units or others terms are discarded; and different but similar names are combined into a single composant (ex:
bearing face 12
and
face 12
).
Secret professionnel :
traitement local entièrement sur le poste de travail sans utilisation de cache, le texte ne sort pas de l'application installée sur votre poste.
Professional secrecy:
local processing entirely on the workstation without the use of cache, the text does not come out of the application running on your workstation.
Signalements :
si des désignations ou des références sont ambiguës, comme dans le cas d'une erreur de référence, elles sont signalées dans la nomenclature pour que le rédacteur identifie immédiatement les éventuelles incohérences.
Corrections :
cliquer sur un composant de la nomenclature permet de parcourir ses occurrences directement dans le document Word, de sorte que la correction d'une anomalie se fait sans devoir effectuer une recherche dans Word.
Warnings:
if designations or references are ambiguous, such as in the case of incorrect reference, they are marked in the list of parts so that the writer can immediately identify the possible inconsistencies.
Corrections:
clicking on an component in the list of parts lets you browse its occurrences directly in the Word document so that correcting an inconsistency is achieved without having to perform a search in Word.
Temps réel :
lorsque le texte en cours d'édition est modifié ou complété, les ajouts ou modifications sont instantannément répercutés dans la fenêtre séparée affichant la nomenclature. L'application peut ainsi être utilisée continuellement durant la rédaction.
Real-time:
as you edit the text in Word, the modifications or additions are instantly updated in the separate window displaying the list of parts. The application can thus be used continuously throughout the drafting process.